By Wilmer Romero on Dec 19, 2017 in Plumbing
Most of us don't worry about home water leaks from cracked or broken pipes. Goodness knows you have enough on your plate already.
Still, what if you were to come home one day only to find your basement or bathroom flooded? Not because of incoming water from a rainstorm, but rather from water leaking from one of your indoor pipes. Well, not only would that represent one heck of a mess that would need cleaning up, but a large enough accumulation of water also could damage or ruin valuable possessions of yours.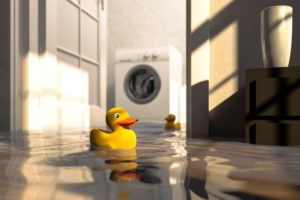 Now, Your 1 Plumber can help you put an end to that worry, once and for all. And that's by installing a water-leak detection system in your home.
Here's what the system consists of and how it works:
It starts with a water shut-off valve that's connected to your water main valve
Wireless sensors are installed throughout your home that "speak" directly to the shut-off valve so it, in turn, can shut down your water main valve should a leak occur wherever there's a sensor capable of detecting it
You can have as many or few sensors as you like as part of your system
Yours also can a include a "freeze sensor to halt the flow of water streaming from a frozen and cracked pipe
Our water-leak detection system can save you many thousands of dollars and help protect not just cherished objects, but treasured memories, as well.  For more information or a free in-home consultation and new system proposal, contact Your 1 Plumber today.
How to Stop Water Leaks in Their Tracks, Mount Airy & New Market – Your 1 Plumber can help take the worry about a sudden water leak & the damage it can cause.