By Wilmer Romero on Sep 16, 2017 in Plumbing
Water pressure.
When it's right, you typically don't give it a second thought. When it slows down – and stays slow – you seek answers and a workable solution.
Let's say, for example, that you can't effectively wash your dishes while a family member is taking a shower because the water pressure is too weak.  Or, more commonly, two of you can't shower at the same time with the kind of water pressure you're accustomed to.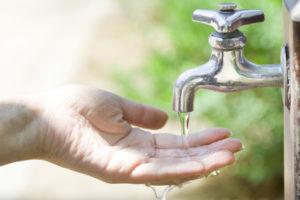 Ultimately, there are two primary reasons why you might be experiencing low water pressure. If the experience is common among your several neighbors, call your water company and report the problem, especially if the water pressure problem affecting all your home plumbing.
If the problem is confined to one or even a few fixtures, here's a quick and easy way to potentially restore adequate water pressure on your own, check for a clogged aerator it's the round, screened, screw-on tip of a faucet.  It mixes water and air for a smoother flow, and you can easily replace it yourself. Same goes for a dislodged or worn out washer.
If that doesn't help increase water pressure, other possible causes include the following:
Calcium and other mineral deposits inside your pipes that are restricting water flow and potentially producing other symptoms of hard water.
Internal pipe corrosion which could be natural or brought on by those same mineral deposits.
You also could have a hidden plumbing leak that's preventing some of the water from reaching its destination, thus decreasing water pressure.
The good news is, low water pressure isn't a problem you have to live with – not with Your 1 Plumber on hand to make matters right again. To get the problem fixed right the first time, – with your satisfaction guaranteed – contact us today.