By Wilmer Romero on Sep 29, 2017 in Home & Lifestyle
If your house is starting to look more like four walls and a roof vs. someplace special, it's probably time to freshen things up a bit. And while there are plenty of ways to do that, from the simple to the extreme, this blog focuses on 6 ways to liven things up without breaking the bank.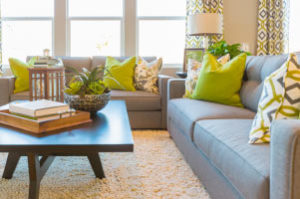 Color Makes Perfect – When you think about taking on a painting job, don't necessarily think of walls and ceilings, especially if they're not showing signs of wear. Instead, consider painting a piece of furniture, or adding throw pillows or wall art that inject a pleasing sense and depth of color on their own.
Repurposing – Unless you're an avowed slave to convention, there's no book or rules that flowers must go inside vases only, or that wash cloths and towels belong only in drawers or linen closets. Want a different look for one or more areas of your home – fast? Then give your décor a fun twist by repurposing everyday items. Place small bouquets of flowers in mason jars, display your soaps in a decorative dish or bowl, and consider rolling hand towels and wash cloths and placing them in a wall-mounted box.
Display Your Travel Memories – Do you take tons of photos and collect souvenirs from your favorite vacation spots. Then why not share them, along with their associated memories, with family and friends. You can, for example, frame antique maps of places you've visited, create a travel themed gallery wall, or display keepsakes and souvenirs in a shadow box or glass-fronted cabinet.
Go Green – If you have the proverbial green thumb but have confined your talents to outdoor landscaping, it's time to bring your game indoors, too. Greenery in the home provides an instant lift to any space. Take large plants, for example – a great way to fill and warm up an empty corner. A collection of different plants in varying heights and in different pots creates lushness, interest, and life. They also provide added color.
Soften Things up a Bit – Softer accessories also serve to soften up the look and feel of a living space. Rugs, cushions, bed quilts, towels, and curtains all help create a cozy, layered level of interest you and others will quickly warm up to. For best results, use a variety of textures, materials and patterns to create added interest and balance.
Make it Look Like New – Now you can change the look of furniture and accessories from "ho-hum" to "hot stuff" in a variety of interesting ways. Swap out the knobs and door pulls on a dresser to something that better reflects your style, change your kitchen cabinet hardware, or wrap a skirt around your pedestal sink. It's not a cure, but it's a great way to get started.
At Your 1 Plumber, one of the things we enjoy most about our work is helping local home owners upgrade the look of their kitchens and bathroom. From simple faucet change-outs to all new plumbing, we have the experience, range of ideas, and products to help bring your project to life. Contact us today for a free in-home consultation about your next kitchen or bath project.