By Wilmer Romero on Mar 20, 2017 in Home & Lifestyle
Reducing the amount of trash that gets thrown out is both good for the environment and your wallet. But where to start? Here are a few tips and suggestions to help you decrease the amount of garbage you generate each week while saving some money in the process:
Composting: This is one of the best ways to save space in the garbage can, use fewer trash bags, and get a great head start on your garden or flower bed. A simple pile or compost bin in the corner of the yard of non-meat/dairy food scraps is the easiest way to start, but if you don't have the yard space or have too many animals in your neighborhood, you can opt for a compost service. For a small monthly fee, they'll pick up all food waste, meat, dairy, and paper goods. In exchange, you'll receive a bag of rich compost soil.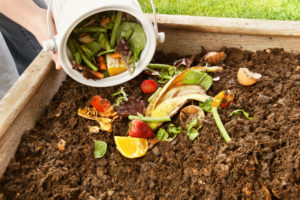 Reduce/reuse: Buying fruits and veggies that don't come wrapped in plastic is an easy solution, along with making more foods at home. Reusing products, or finding new uses for them is called up-cycling, and includes everything from making a flower hair clip out of plastic spoons to making a beach tote bag out of old plastic grocery bags! There are lots of DIY books and videos to inspire and instruct you.
Recycle: Putting soda cans, mayo jars, and milk jugs in the recycling bin makes sense, but there are other things that can be recycled that get missed. Many of the Styrofoam containers used in ground meat packages can be recycled (check the bottom to be sure). Did you know that your old jeans can be donated and turned into housing insulation and old wine corks can be recycled into shoes? Cosmetics containers also can be recycled!
Paper waste: Cardboard, toilet paper rolls, magazines, and junk mail can be handled in a few different ways. You can put it straight into the recycling bin, bundle the papers and use it for kindling in your fire place or fire pit, or turn it into something new. Here's one such idea.  Tear up old papers and junk mail and put them into a 5-gallon bucket. Add water and soak overnight. Stir or mix and the paper will turn into pulp. Drain out all the water, make the pulp into bricks or patties and leave them out to dry. Once completely dry, you'll have your own fire starting logs – long lasting and all free!
Here at Your 1 Plumber, we're big on green products and solutions, too.  Low-flush toilets, faucet aerators, tankless water heaters and more are just a few of the ways we're helping our customers conserve water and energy while still enjoying all the convenience and flexibility they're used to – in some cases, even more.  Contact us today to learn how we can assist you.